It has been almost two years since the Taliban returned to power in Afghanistan, which saw the United States and its allies leave in chaotic scenes after 20 years of supposed nation-building.
Nature abhors a vacuum, and it has been one China is happy to fill. When Kabul fell to the Taliban, it did not go unnoticed in Western circles that China kept its embassy open, promising at the time, according to the Taliban spokesperson, to "beef up" relations with the new regime.
Afghanistan offers China several opportunities. A stable and receptive government in Kabul could provide a chance to invest in lucrative infrastructure, energy and mining projects in the resource-rich but underdeveloped country. For example, in January the Taliban signed a contract with Xinjiang Central Asia Petroleum and Gas, a subsidiary of China National Petroleum Group, to extract oil from the Amu Darya basin.
China has long seen Afghanistan as a future member of its Belt and Road Initiative. The initiative, launched in 2013, aims to connect Asia to Africa and Europe through Central and South Asia.
Earlier this month, China and Pakistan agreed to extend infrastructure projects in the initiative to Afghanistan, potentially opening the country up to billions in investment opportunities. This includes a decision to extend the US$60 billion China-Pakistan Economic Corridor to the landlocked country.
Diplomatically, China has welcomed Taliban representatives and encouraged the international community to scrap sanctions and better interact with the regime. However, official recognition still seems off the table for the time being.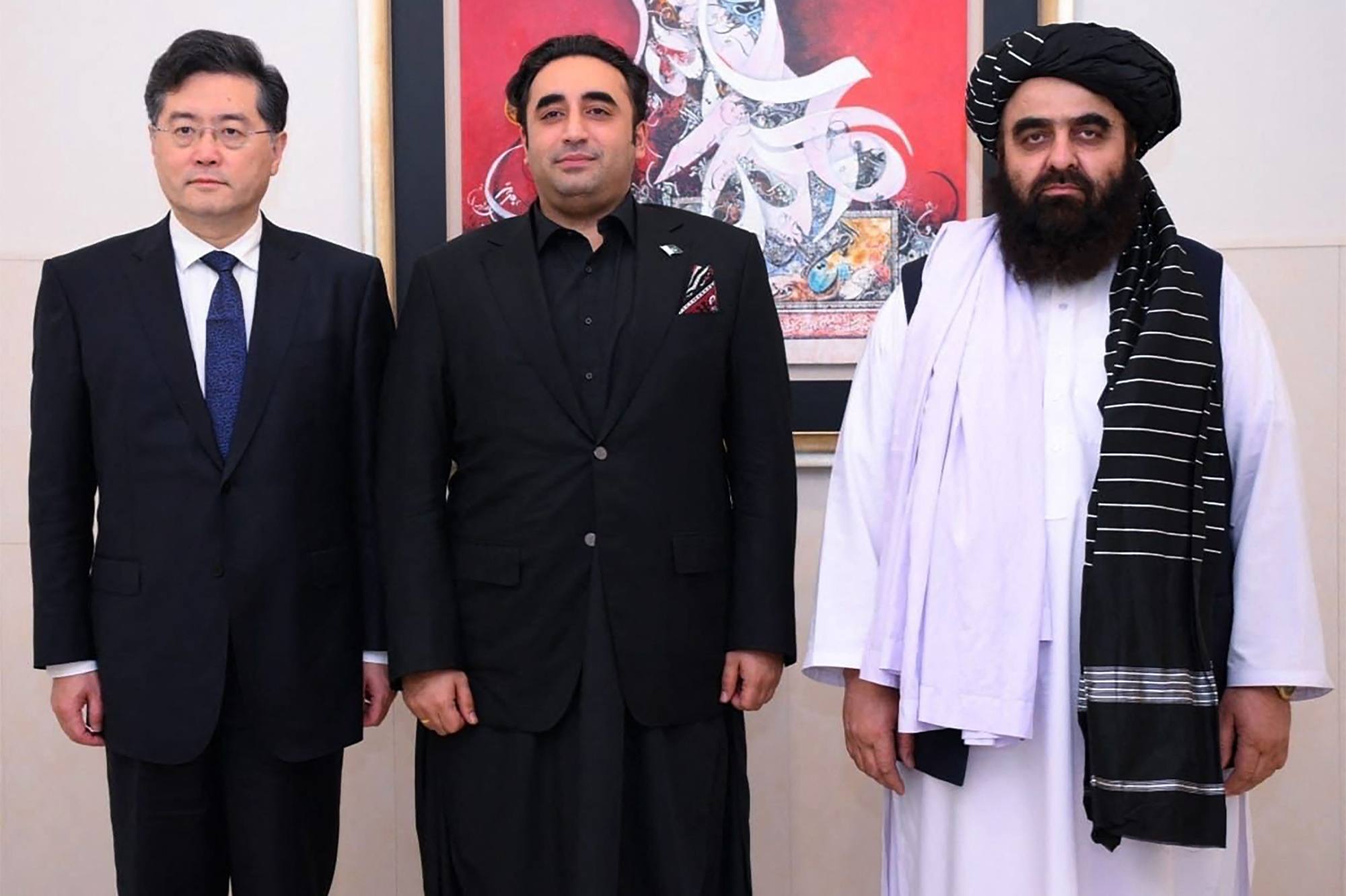 Chinese Foreign Minister Qin Gang, Pakistan's Foreign Minister Bilawal Bhutto Zardari and Amir Khan Mutaqi, the foreign minister of Afghanistan's Taliban government, meet in Islamabad on May 6. Photo: AFP
This suggests a more assertive Beijing than in decades prior, willing to intervene economically and politically to stamp its authority on the region. Meanwhile, the Taliban desperately covets international recognition and investment opportunities in order to attempt to rebuild the country and solve its economic and humanitarian crises.
But this relationship isn't as simple or clear-cut as either side would care to admit. Taliban-ruled Afghanistan is beset by several issues that make investment or improved relations extremely problematic.
The country continues to grapple with its humanitarian crisis that has plunged most of the population into poverty. The United Nations has said that more than 28 million Afghans require some form of humanitarian assistance.
The situation is indeed dire. UN Secretary General Antonio Guterres used a recent meeting in Doha to express concern over the lack of funding to address the crisis, stating that a "mere US$294 million" had been received from donors out of the Humanitarian Response Plan's target of US$4.6 billion.
For its part, China pledged US$31 million in humanitarian aid to Afghanistan in 2021. However, the current situation in the country prevents the kind of stability required for long-term infrastructure projects.EVERY SATURDAYA weekly curated round-up of social, political and economic stories from China and how they impact the world. GET THE NEWSLETTERBy registering, you agree to our T&C and Privacy Policy
The crisis intersects with the Taliban's severe repression of the human rights of women. It has banned women from secondary and higher education, as well as from working, pushing millions further into poverty. The recent Taliban decision to restrict women working for the UN has also meant many are prevented from accessing life-saving food, water and medicine.
In February, China joined the wider international community in calling for the Taliban to end restrictions on women and education. In a joint statement with Iran, it called on "the Afghan rulers to form an inclusive government in which all ethnic groups and political groups actually participate and cancel all discriminatory measures against women, ethnic minorities and other religions".https://www.youtube.com/embed/NKGGgaaKP7g?rel=0&mute=1&playsinline=1&frameborder=0&autoplay=0&origin=https%3A%2F%2Fwww.scmp.com&embed_config=%7B%22relatedChannels%22%3A%5B%22UC4SUWizzKc1tptprBkWjX2Q%22%5D%2C%22enableIma%22%3Atrue%2C%22disabledRelatedVideos%22%3Atrue%2C%22adsConfig%22%3A%7B%22disableAds%22%3Atrue%2C%22adTagParameters%22%3A%7B%22iu%22%3A%22%2F8134%2Fscmp%2Fweb%2Fcomment_insight%2Farticle%2Finstream1%22%7D%2C%22nonPersonalizedAd%22%3Atrue%7D%7D&enablejsapi=1&widgetid=1
Protests against Taliban's university ban of Afghan women erupt across Kabul
An arguably more pressing issue for China is the rise of Islamic extremism in Afghanistan since the Taliban takeover. China is wary of the Taliban's habit of harbouring extremist groups, particularly those from China's Xinjiang region.
The Chinese government has reportedly detained, over the years, up to 1 million Uygurs, a Muslim ethnic minority group, under the guise of vocational training. China has also reportedly pressured the Taliban to refuse support for Uygur militants and to deal with extremism more broadly in exchange for official recognition.
In addition, Chinese nationals are at risk while working in Afghanistan. In one case, unidentified men attacked the Longan Hotel in Kabul – a hotel popular with Chinese nationals – late last year, leading the Chinese government to call for its citizens to leave Afghanistan "as soon as possible".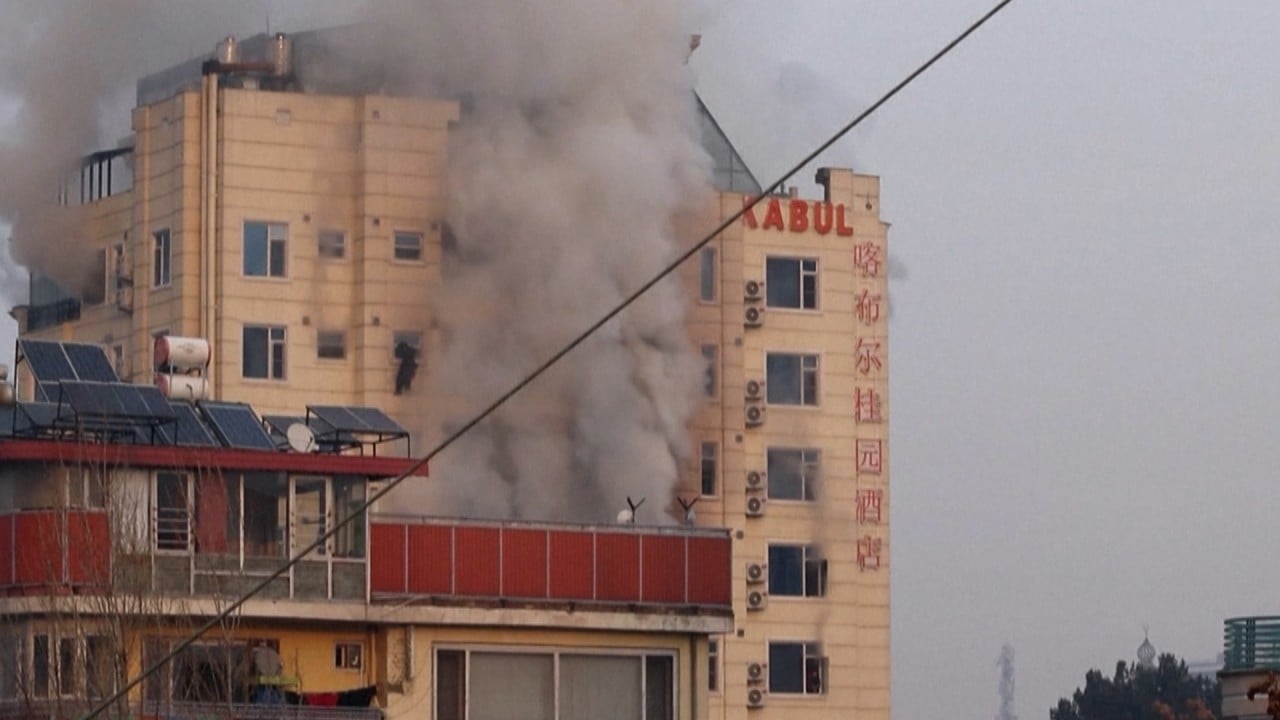 Islamic State claims deadly attack on Kabul hotel popular with Chinese nationals
In January, five people were killed in a terror attack outside the Afghan foreign ministry in Kabul where a Chinese delegation had been expected. The Chinese foreign ministry expressed its concern and said it hoped the Afghan government would protect citizens from all countries, including Chinese nationals.
These attacks suggest the Taliban is either incapable of tackling terrorism in Afghanistan or simply isn't interested in doing so.
Afghanistan has long been called the graveyard of empires. The country remains unstable, and the Taliban's refusal to respect human rights, form an inclusive government and tackle extremist groups will ensure that this continues.
Economically at least, this could mean China is in for the same treatment. If Beijing wants to avoid this fate, it should tread carefully.