Washington is engaging with its allies around the world to surmount China's recent ban of American semiconductor company Micron from its key infrastructure projects, US Commerce Secretary Gina Raimondo said on Saturday.
"We see it as, plain and simple, economic coercion," said Raimondo of the blacklisting as a ministerial meeting of the Indo-Pacific Economic Framework (IPEF) ended in Detroit, Michigan.
"We won't tolerate it, nor do we think it will be successful."
The US was "closely engaging with partners addressing this specific challenge and all challenges related to China's non-market practices", she added, when asked about concerns that Beijing was trying to drive a wedge between Washington and its allies by banning American firms while opening its market to their competitors in countries like South Korea.
The Chinese embassy in Washington did not immediately respond to a request for comment.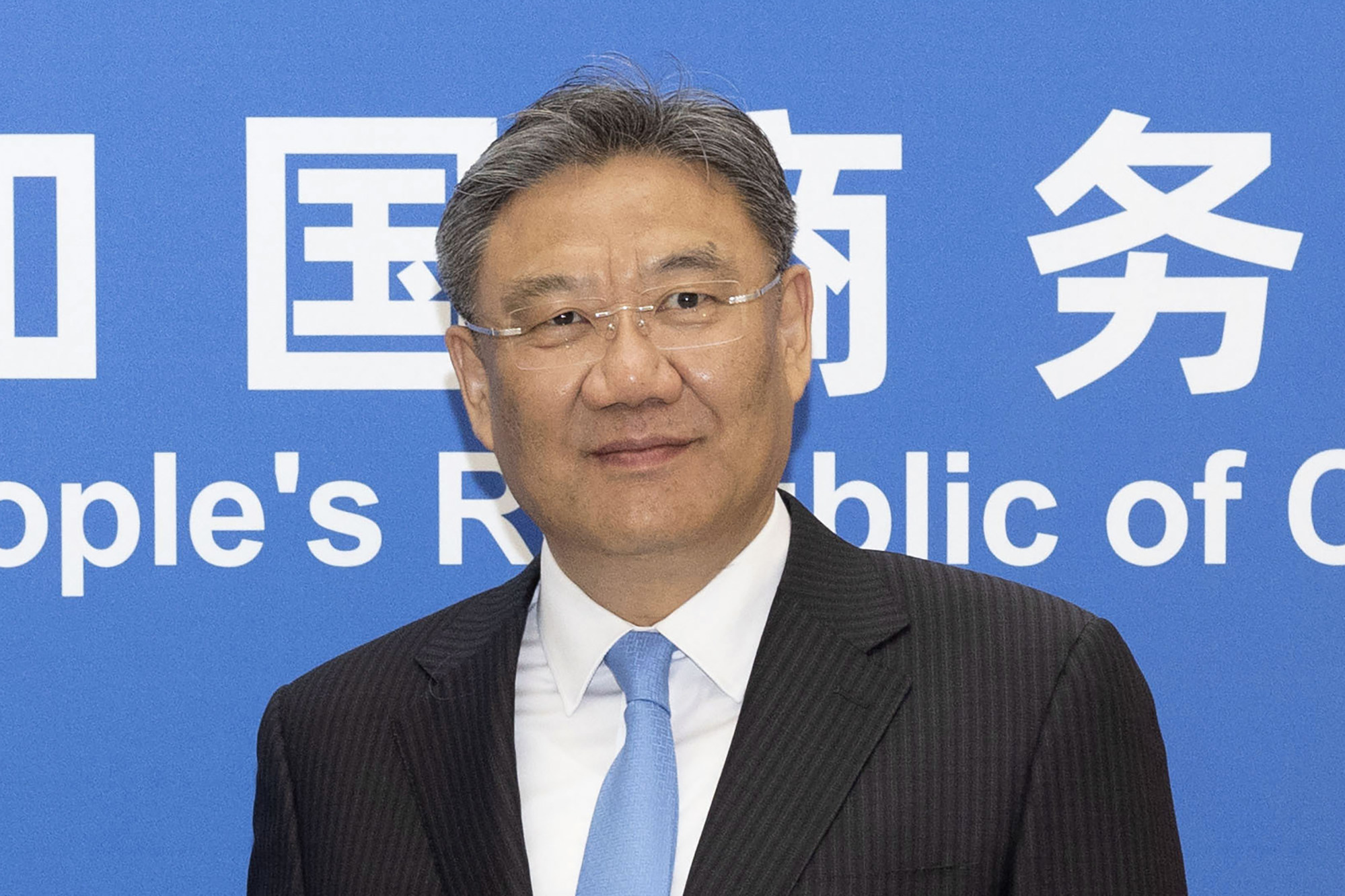 Chinese Commerce Minister Wang Wentao has expressed Beijing's willingness to work with Seoul to deepen bilateral trade and investment cooperation. Photo: DFAT via AP
Beijing's ban of Micron has been widely viewed as retaliation for the Biden administration's export restrictions on certain cutting-edge semiconductors, meant to choke off China's capabilities in strategic technology.
The pointed remarks came a day after Chinese Commerce Minister Wang Wentao met his South Korean counterpart on the sidelines of the Asia-Pacific Economic Cooperation (Apec) trade ministers' meeting held May 25-26 in Detroit.
Wang expressed Beijing's willingness to work with Seoul to deepen bilateral trade and investment cooperation as well as maintain stable industrial and supply chains. About 40 per cent of South Korea's chip exports go to China, according to trade ministry data.
Raimondo's comments on Saturday came in Detroit on the first anniversary of a US-led economic initiative aimed at countering China's influence in the Indo-Pacific.
After multiple rounds of intense negotiations spanning almost a year, the 14-nation IPEF on Saturday reached its first-ever agreement on building sustainable and resilient supply chains focused on strategic items including critical minerals and semiconductors.
"I'm very excited to announce this afternoon that we have substantially concluded negotiations on the IPEF supply chain agreement," said Raimondo at a media briefing after the four-hour discussions concluded. The closed-door, ministerial-level meetings covered trade, supply chains, green economy and anti-corruption.
US President Joe Biden launched the framework in May last year, describing it then as "writing the new rules for the 21st century economy" by cooperating with countries that share "common values" such as democracy.
Its participating countries include Australia, Brunei, Fiji, India, Indonesia, Japan, Malaysia, New Zealand, the Philippines, Singapore, South Korea, Thailand and Vietnam. Combined they account for 40 per cent of global gross domestic production.
Raimondo described Saturday's development as a "really very big deal".https://www.youtube.com/embed/TAmNKg2zBxY
"By deepening our cooperation through the IPEF, this proposed supply-chain agreement will improve the business environment for US businesses, drive investment in American companies and workers, strengthen and bolster American jobs, and help the US to stay competitive globally".
The agreement will establish an IPEF supply-chain council charged with coordinating sector-specific actions to build resilience and competitiveness into the supply chains of crucial sectors.
It will also set up what Raimondo called an "ironclad" IPEF supply-chain response network to give IPEF partners an emergency communications channel.
The agreement further calls for a labour rights advisory board to provide new mechanisms to address workforce training, upskilling, and labour rights concerns.
"We all learned the hard way during Covid how difficult it is if you aren't able to communicate swiftly and transparency during a crisis of supply chains," Raimondo said.
Yet differences on trade remain.
On Friday, Wang raised concerns about IPEF with US Trade Representative Katherine Tai during a one-on-one conversation on the margins of the Apec meeting.
China, the world's second-largest economy, regards IPEF as an American attempt to contain its rival's economic expansion.
Many IPEF partners are also members of trade agreements like the Comprehensive and Progressive Agreement for Trans-Pacific Partnership (CPTPP) and the Regional Comprehensive Economic Partnership (RCEP). Unlike IPEF, both agreements offer free-market access and reduced tariffs.
In 2016, Biden's predecessor, Donald Trump, withdrew the US from the 12-member Trans-Pacific Partnership, the CPTPP's predecessor, to protect domestic manufacturing and its workers. The initial deal was signed during the Obama administration to counter China's rise.
Biden, who took office in 2021, has ruled out rejoining the group. However, China has applied for membership. Beijing is also a member of the RCEP, whose ranks include Japan and South Korea.
And while IPEF attendees in Detroit reached a consensus on supply chains, developing economies have continued to seek greater access to both US markets and lower tariffs.
India, a key US ally in the Indo-Pacific, did not take part in the IPEF trade negotiations on Saturday. The government of Narendra Modi has faced pressure at home from some in civil society and other groups to withdraw from the trade talks.
Tai, the American trade envoy who led IPEF negotiations on trade, described the framework as "not a traditional trade deal", saying its goals from the start were "going to be different for this".
"We're not just trying to maximise efficiencies and liberalisation," Tai said. "We're trying to promote sustainability, resilience and inclusiveness."
"I know that change is scary. The change is happening all around us anyway."